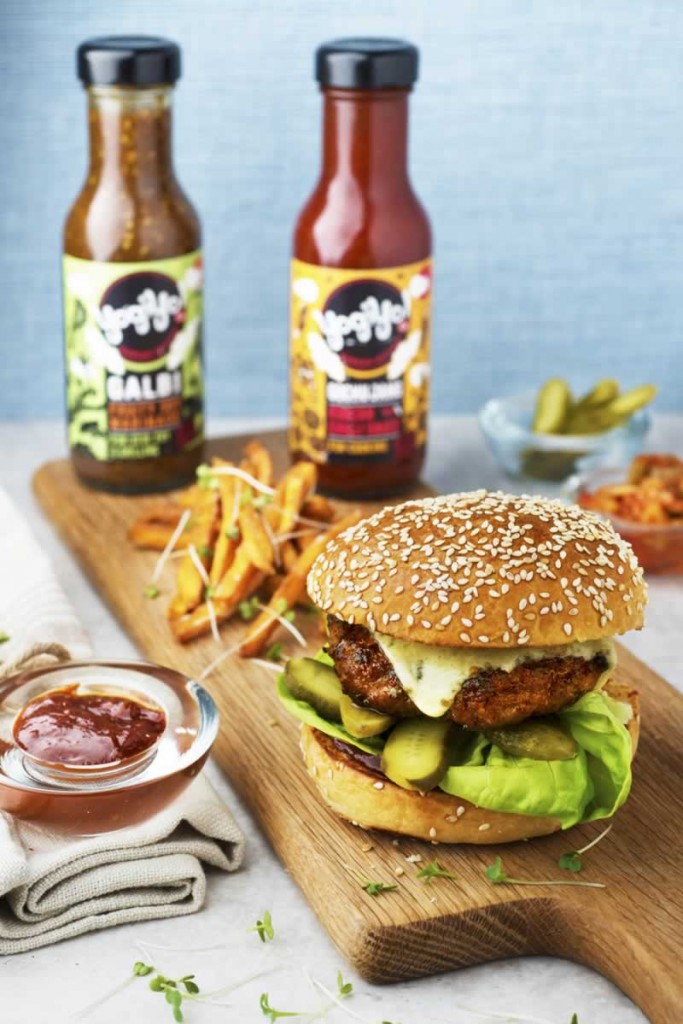 Serves 4

Ingredients 
Bulgogi Burger
600g Minced steak – Rump or Sirloin if available
2 large cloves garlic, finely chopped
6 spring onions, finely chopped
4 tbsp Galbi sauce
50g Panko (Japanese) breadcrumbs
1 tsp salt
1 tsp cracked black pepper
4 tbsp vegetable oil
1 tbsp sesame oil
Yogiyo ketchup
2 tbsp Yogiyo gochujang
3 tbsp ketchup
2tsp toasted sesame oil
To Serve
4 Brioche buns
Cheddar cheese square slice
Lettuce
Gherkins
Method 
Make the beef burgers by mixing the minced steak with the garlic, spring onions, ginger, Galbi, salt and pepper in a large bowl. Add the breadcrumbs and form the mixture into four patties. Put on to a tray, cover with cling film and refrigerate for 1 hour.
Make the ketchup by mixing all the ingredients together in a small saucepan and heat stir for 2 minutes. Allow to cool and put into a serving dish.
Remove the burgers from the refrigerator and allow to come to room temperature before cooking.
Pour the oil into a large, deep heavy-based pan to a depth of at least five centimetres or use an electric deep fat fryer if you have one. The oil needs to be heated to 160°c.
To cook the burgers, heat the oils in a frying pan until smoking and seal the burgers on both sides until golden brown. Continue to cook in the pan, turning continuously for 10 minutes or transfer to an oven at 180°C for 15 minutes (place cheese on burger patty for last 3 minutes if oven cooking) . Allow to rest for 10 minutes.
To finish the dish, slice Brioche buns and toast the inside lightly. Smear with the ketchup and top with the Bulgogi burger, cheese lettuce & gerkins.